Zemits HydroVerstand HydroDermabrasion Skin Rejuvenation
Out of stock
Available 12 interest-free payments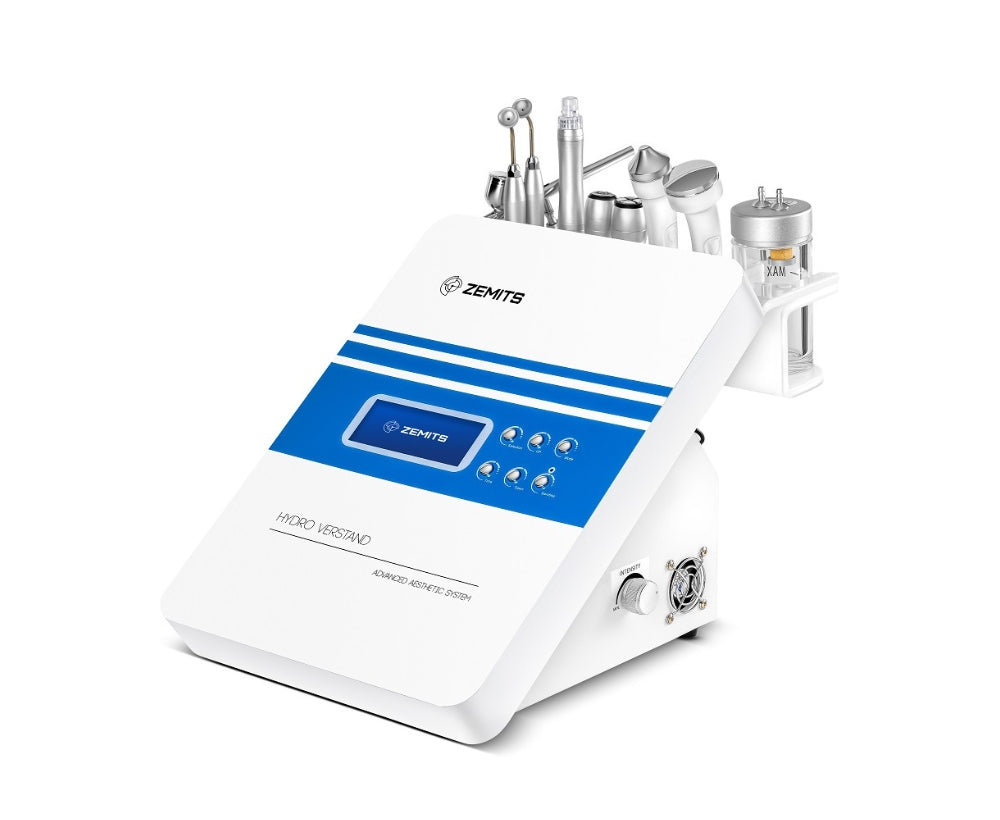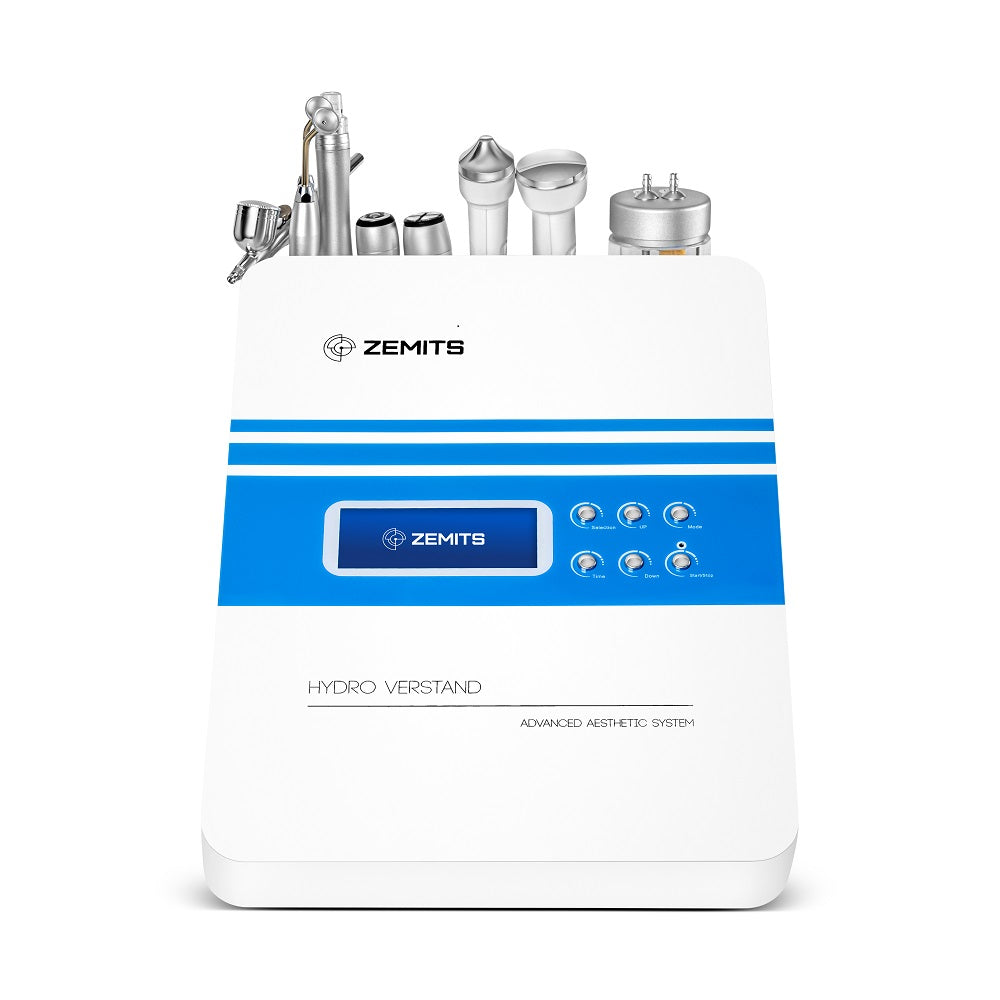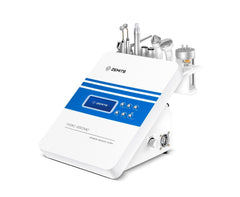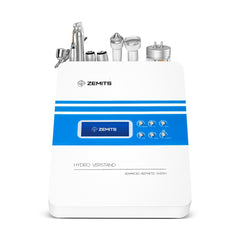 Packed Size

48*42*40cm


Weight

12 kg


Warranty

24 Months
Financing

0% In-House Financing

Training

Included

Marketing Support

Included



A multifunctional platform

For combined top-trending skin rejuvenation treatments

The world's first Fluid HydroDermabrasion Technology
Combined with top-trending skin rejuvenation treatments:
Fluid dermabrasion technology is a non-dripping and less costly skin resurfacing treatment, the latest innovative skincare technology and an excellent crystal-free alternative to microdermabrasion. Combining the power of chemical and mechanical exfoliation breaks up the outer layer of the skin to reveal a smoother, more even texture.
Fluid dermabrasion is used on all skin types, including sensitive, to repair ageing, congested, blemished, dull, or discoloured skin. Oily skin can benefit from this, too, by becoming less greasy, reducing the appearance of enlarged pores. With the Zemits Hydroverstand, the professional can perform deep cleansing treatments, transdermal infusion of vitamins & mesococktails, which support and restructure the skin from within, skin tightening treatments, and saturating skin with nutrients through Oxygen Serum Infusion therapy.
Zemits HydroVerstand Benefits

Zemits HydroVerstand is a complete multifunctional platform that covers all needs of the entire spa.

This versatile beautiful system offers 30+ facial protocols in one device.

Zemits Fluid HydroDermabrasion treatment requires 10x less serums than other hydrodermabrasion machines on the market.

Dual Oxygen Massager is a state-of-the-art skin refreshing treatment performed simultaneously on both sides of the face.

Zemits RF skin tightening treatment helps tighten loose and saggy skin on face, neck and decollete.

Ultrasound technology enables skin hydration.
Benefits: part 2
1. Zemits HydroVerstand is the newest Fluid HydroDermabrasion Technology on the market.
2. It is 100% unique and effective.
3. One device enables numerous customized treatment protocols for every skin type.
4. Zemits HydroVerstand combines 7 most popular treatments in one single platform.
5. HydroVerstand comes with the most complete complementary training course.
How does Fluid HydroDermabrasion Work?

The Skin professional/aesthetician applies with a fan brush their chosen Zemits HydroDermabrasion serum (Zemirs Hydroclear or Zemits Salicpure over the face, neck and décolletage. The Zemits serum is partially absorbed by the skin, softening any clogged debris in the pores and reacts with the superficial layers of the skin. Only 5 ml of the Zemits hydropeeling active serum is needed to perform the entire Fluid HydroDermabrasion session.
Fluid HydroDermabrasion Enables:
Greater Exfoliation.

Controlled vacuum aspiration.

Precise treatments even for thin/sensitive skin.

Better blackheads extractions.

Customised protocols.
Difference between Fluid HydroDermabrasion and Diamond Microdermabrasion
Compared to classical dry diamond microdermabrasion, Fluid HydroDermabrasion is performed over wet skin with serum, thus performing hydro exfoliation and achieving more excellent exfoliation, applying less vacuum aspiration, and providing more comfort during the treatment.
Fluid dermabrasion employs a peeling solution with potent ingredients, like brightening hydro-peeling serum with lactic acid, Zemits HydroClear, which profoundly cleanses and softens the skin and significantly facilitates the process of removing the stratum corneum and sebum from the pores.
The result is similar to a microdermabrasion treatment but has the added benefit of improving circulation and hydrating the skin. In addition, this treatment also boosts collagen production, which has an anti-ageing effect on the skin.
Zemits Dual Oxygen Injection

We love to innovate so we have added a new Zemits Dual Oxygen Injection. It is truly a unique treatment that complements the signature HydroVerstand Facial.
The Zemits HydroVerstand has two specific oxygen injectors as well as your Y-shaped oxygen spray gun that delivers a simultaneous powerful oxygen flow to both sides of the face.
Oxygen facials support in combating visible signs of ageing linked to poor conveyance of oxygen from subcutaneous capillaries to the surface of the skin, as well as due to external aggressors.
100% beauty with oxygen
You can now customise a stream of high-pressurised oxygen flow applied to the face and neck. Select your favourite intensive treatment serum, topically apply it to the skin and the oxygen infuses the active and moisturising agents into the skin for a smoother, plumper look, providing a healthy glow.
The oxygen facial is a popular treatment to indulge in prior to a big event, and suitable for all skin types. This amazing treatment is designed to nourish the skin and stimulate cellular communications and new collagen and elastin growth. Oxygen injection can include antibacterial, brightening, green tea, Vitamin C, and collagen.
How the Oxygen Injection Works?
After the FluidHydroDermabrasion Exfoliation and extractions, the aesthetician can perform the Dual Oxygen Injections.
There are no needles or Oxygen tanks. Apply chosen Infusion Serum over face, neck and decollete with a fan brush. With both oxygen injectors tightly placed onto the skin, the aesthetician slowly moves the handpieces following the lymphatic drainage directions: from the middle of the face to the periphery.
Clients usually experience refreshing and cooling sensations during Dual Oxygen Injections. The result, vivid brighter skin with a natural, healthy, revived inner skin glow.
RadioFrequency Skin Tightening

Radio Frequency is an advanced technology which delivers precise rejuvenating treatments of the face and décolleté. Zemits HydroVerstand is equipped with BiPolar and Multipolar RadioFrequency probes.
With a professional Zemits RF device, we can reach the dermal layers to help boost collagen and elastin production and, as a result, achieve tighter and firmer skin. Zemits provides this #1 technology to address the early signs of ageing and loose or sagging skin.
Benefits of Zemits RF

Zemits RF utilises safe and superficial current that does not affect or change the structure of the skin tissues, but helps skin to maintain its natural rejuvenation process.
Unlike Micro-needle RF , Zemits RF is completely non-invasive and non-aggressive for skin tissues.
Zemits RF is not intended to be used to treat any type of skin disease. It is intended to be used by aestheticians for cosmetic purposes only.

Ultrasound Therapy with Zemits HydroVerstand
With two precise Ultrasound probes for face and eyes, Zemits HydroVerstand generates ultrasound frequency with gentle vibrations that enable the deep infusion of the vitamins, cocktails, serums of choice as well as an intense improvement of local blood and lymphatic circulation.
This comfortable treatment delivers targeted energising and stimulating effects to the skin, helping to reduce dark circles around eyes, diminishing depth of fine lines and wrinkles, reduces puffiness and dullness of the skin.

Zemits Ultrasound results in:
Increased blood and lymph circulation.

Reduction of puffiness and visible face lifting.

Skin whitening Deep skin nourishing and hydration.
Oxygen Infusion Therapy Gun
Oxygen infusion helps to speed up the metabolism of skin cells. This treatment allows infusing the skin with immense hydration and restoration. It provides deep skin hydration with an intense flow of Serums to stimulate skin turnover, boost collagen production, increase skin elasticity, and infuse skin with minerals and vitamins.
Oxygen Infusion Benefits:
Increased youthful skin appearance

Smoother skin and even tone

Accelerated skin hydration

Brighter skin complexion soothing treatment post fluid dermabrasion
Oxygen Infusion is performed with the Zemits Skin Repair and Boosting serum Zemits OXYTIGHT to deliver soothing and replenishing results deep into the skin.
Technical Specifications:

1. Voltage: 110 V, 50 Hz
2. Power: ≤ 75 W RF
3. Frequency: 1 MHz RF
4. Power Range: 5-50 W
5. Ultrasound Facial Power: 0.2- 2.0 W/cm2
6. Ultrasound Frequency: 1.1 W/cm2
7. Vacuum Suction Pressure: ≥ 80 kPa (0.08 Bar)
8. Electroporation: 2.5-5 kHz, 36 V, 10-30 W
9. Microcurrents: 2.5-5 kHz, 36 V, 5-20 W
10. Flow Speed: ≥ 4.8 l/min Weight: 9 kg11. Box size: 48*42*40 cm12. Netto weight: 11 kg13. Gross weight: 12 kg
Check out the results after Zemits HydroVerstand:
Results after the procedure Individual treatment results may vary depending on the unique physiological characteristics of the patient and the number of procedures in the course of treatment.
Return on Investment
According to our Zemits clients' feedback, it takes approx.
4-5 weeks
to get your return on investment (ROI) - as an existing business with an established clientele. Are you just starting out as a new business? Expect to work approx.
2 - 2.5 months
until you reap the rewards of your ROI, while you're getting started, working hard, and building up your clientele.